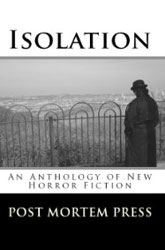 Isolation, a horror anthology from Post Mortem Press that features my story "File 8962: Found in Apartment 211 on Clean-Up Day 2" is now available!
There are a few options to get a copy of this super awesome anthology. Order it in print from Post Mortem Press or Amazon.com
. It's also available digitally for Kindle
and as an ebook at Smashwords.
Check it out and let me know what you think about the story and the collection as a whole.